Board of Directors
In the summer of 2015, I read a post from one of my favorite natural hangouts asking for help keeping their park clean. I decided to organize a clean-up to help them out. Then I thought, "Why stop there?!" That is where KAC all started. I met Ray through my massage business. After talking to him about another of his non-profits, Operation Pets Alive in Houston, I asked if he could give me some pointers. He decided to join the cause by the end of the meeting, and Keep Austin Clean was born!
---
Alex George – President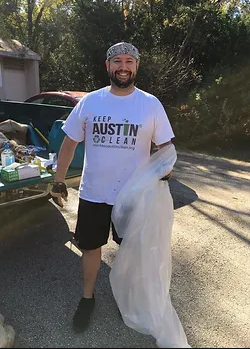 Alex has been a massage therapist since graduating from The Lauterstein-Conway School of Massage in Austin, Texas 2011. Before his career in massage therapy, he earned a degree in Exercise Sport Science from Texas Tech University, where he volunteered with the athletic department and later became an assistant strength and conditioning coach. In 2004, he moved to Cloudcroft, New Mexico. After falling in love with the mountains and expanding his love of nature he decided to stay in Cloudcroft for two and a half years. While living in the mountains Alex took advantage of the area's natural beauty while hiking and jogging the region's trails. The Rim Trail, Osha Trail, and old fire roads were among his favorites. As he hiked, he would pick up trash to keep the trails beautiful and clean. In October of 2006, Alex moved back to Texas and selected Austin as his new home.
During his childhood, Alex and his family traveled and camped during the summers and school breaks. One of the lessons his parents instilled in Alex was to clean their campsite before leaving to make sure there was no trash left behind. It was because of their influence that Alex's passion for environmental preservation was born.
Alex participated in Cub Scouts and Boy Scouts from second grade to high school. His Boy Scout troop participated in many volunteer events and also organized and attended camping events at Camp Billy Gibbons. Alex's childhood experiences with camping and his participation in Boy Scouts set the stage for his passion for conservation and environmental perseveration.
In the summer of 2015, Alex received notice that one of his favorite swimming holes was in a state of disrepair due to leftover waste. At first, his goal was simply to organize a camping trip to clean the swimming hole, but why stop there? The idea quickly grew into a dream of cleaning the entire Greenbelt system while promoting education centered around recycling and conservation. It was then that Keep Austin Clean was born!
​
In March 2020, Alex moved to Cloudcroft, NM. He is now in the process of continuing his initial dream of starting conservation and clean-up efforts around the country. Soon, Keep Cloudcroft Clean will be unveiled!! But don't worry!! He will continue keeping Austin clean, TOO!
---
Adam Dunlap – Vice President & Secretary
Adam is no stranger to volunteering and giving back to the world. Adam grew up on Long Island (NY). As the son of a minister and a mother that helped run several non-profits, including a large homeless shelter and assistance program, Adam was constantly giving back to his community and helping those less fortunate than most. When he was a senior in high school Adam organized a large high school battle of the bands which both showcased local youth talent (himself included) and raised money for music education. After college Adam moved to Pennsylvania where he continued to give back to his community by getting involved in local arts programs and volunteer only-theaters. Eventually, Adam became a member of the board of directors at a local theater, stage managed several productions, and led set construction efforts.
Adam first fell in love with nature through a weight loss journey that saw him hiking out in the wilderness with his trusty sidekick, Charlie, and enjoying what the earth had to show him. He then became very interested in mountain biking and has volunteered at several trail cleanups and MTB related meetups. In 2018 Adam moved to Austin and is now enjoying public service as a state employee for a state agency helping the most vulnerable individuals in the state. Adam showed up to a Keep Austin Clean meetup and immediately loved being able to clean up and help our environment directly. He enjoyed this so much that he has now taken on the role of Vice-President.
---
Ray Yepes – Treasurer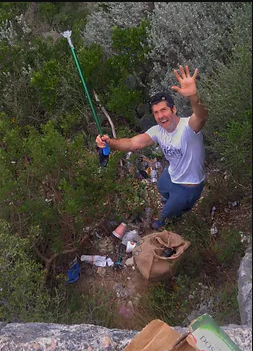 Ray's passion for the environment came about through a difficult lesson as a young teen. During a drive to the beach with his brother and uncle (Ray's role model), Ray did something that would drastically change his perspective on the environment. Before hitting the road, Ray's uncle stopped by a convenience store to fill up and get a few snacks for the road.
Not long after the stop, Ray finished his drink and tossed his empty cup out the car window. Much to his surprise, his uncle slammed on the brakes, causing a loud skid sound from the tires at a busy intersection. Ray's uncle looked at him and firmly told him to, "get out and pick it up." Embarrassed, Ray refused to comply at first with his uncle's command. However, his uncle made it clear that they were not leaving the spot until Ray picked up the cup he had thrown, and, after a few awkward minutes, Ray had no other choice but to comply with his uncle's request and pick up the trash he had just tossed out the window.
People witnessing the event kept staring at Ray, and, when a mortified Ray finally made it back to the car, cup in hand, some of the spectators on the street applauded and praised the uncle for his teaching of an important lesson. Ray felt humiliated to the point of tears—it was a very painful lesson to learn, especially for a 14-year-old kid.
At first, Ray was angry with his uncle and refused to talk to him for the next few hours. Later that day, his uncle broke the silence and approached Ray. He offered a hug and then asked Ray a question that changed his life: "if you don't care about the environment, who do you think will?"
His uncle went on to say that, while Ray may not see it right away, the lesson of caring for the environment would change his life. He was right; that moment was a turning point in Ray's life. Whenever his uncle saw a piece of trash lying on the ground, he would stop, pick it up, and put it in a trashcan, and, not long after the fateful drive, Ray found himself following his uncle's footsteps.
His uncle's painful, but effective lesson was followed by many other lessons regarding the importance of preserving the environment, and more significantly, the importance of each individual doing his or her part. Ray now believes that leading by example is vital, and he has been known to stop during walks with his daughter to pick up a can and bring it back home for recycling.
Today, Ray sees education as the key to teaching people to care for our planet, which led Alex and Ray to create Keep Austin Clean.